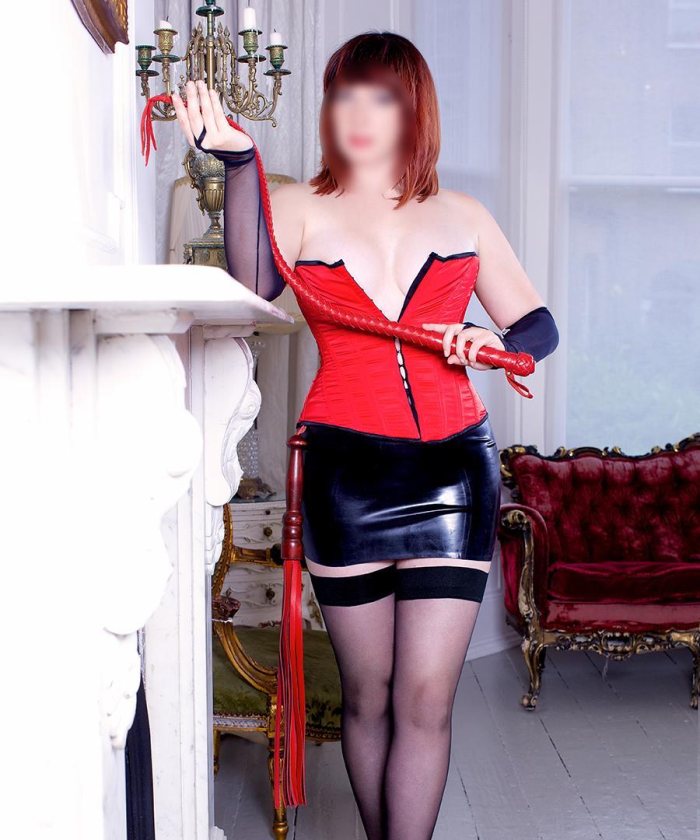 A Domme gets locked in her own dungeon
By Elizabeth Swan on
It is like the beginning of a joke. The day started off annoyingly. My roofer had ignored my messages this week asking when he was going to grace me with his presence. (I wasn't that sarky). I have scaffolding up due to a hilarious bodge job the previous house owners had done. Why put up lead flashing when gaffer tape is cheaper? I kid you not. So remember that rain a few weeks back? The ceiling almost landed on my head. Anyway all week I wait for the roofer. Then the morning when I have a lot to do including testing out my new anal thruster and cleaning all my latex, well of course he chooses then to arrive.
I left them to it, after making sure all my curtains were tightly closed, and made my way to my dungeon. Now I had only booked in a regular slave today as I knew we were going to go over time. I have a problem with an ancient toilet, a pipe from the cistern kept leaking and I couldn't tighten it. So I had requested he come with some tools. He arrived, I shut the door…and the lock broke. That's right, I couldn't open the bloody door. Totally broken. But as luck would have it, this slave is a carpenter. Talk about luck! Even luckier he had brought his tools for the broken toilet! So we had a screwdriver!!! He took the inside lock off and fixed the spindle. Relief and jubilation followed. I wasn't going to have to call the firemen!
A short time later my loo was also fixed and so you have one very happy Mistress, and a slave who is about to try out my new anal thruster. But I am jumping ahead. I decided to do lots of wicked things to his cock. But because he had made me happy I did a deal with him. If he took the wax, pegs, cock clamp and deep heat without too much noise I would take my dress off. He did and was rewarded with me in a see through fishnet body. Stockings and suspenders. It didn't leave much to the imagination. Some pics of what I did to him are on Twitter. Other ruder ones you can find on AdultWork aws.im/1X23 But occasionally my pics are too rude for AdultWork so let's see if they remain up!
Then after a slipper and a crop to his bottom I took him back downstairs to try out my new toy. After I had secured him with belts to my strap on bench I taped his butt apart and then slipped the anal thruster in. I set it low. And then I reached for my vibrator. With the vibrator in one hand and the remote control in the other I made myself comfortable and then I made myself even more comfortable as I placed the vibrator against my clit. As I got closer and closer I turned his remote control up more and more so it was thrusting deeper and deeper and vibrating more and more. My orgasm was spectacular and I showed him my appreciation by turning his toy up more.
And then it was his turn. I turned him onto his back with his legs on the stirrups and then put some tingle gel on his cock. He was already ready to pop so I very slowly began to stroke him up and down with two fingers. He was begging by the end.
He came like that whilst the anal thruster was still doing its thing.
Afterwards he paid for the session and I surprised him by returning some of the money. He hadn't seen my blog about rewarding my new Stoke regs so was taken aback.
Then I rewarded him by allowing him to chauffeur me to the train station.
On the train I chilled with my new Rebus book and a bottle of Moretti as I avoided the eyes of a man who kept checking me out.
And then I went to the chippy where the man gave me a free fritter alongside my usual small fish and chips with mushy peas.
A very good day.
Elizabeth Swan
---